Grand Canyon National Park, China's Yuntaishan World Geopark Renew Sister Park Agreement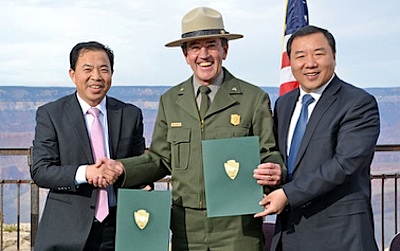 China and the United States might have some differences over trade and monetary policies, but the two countries' park systems see eye to eye. Proof of that came earlier this month when officials from Grand Canyon National Parkand Yuntaishan World Geopark renewed their Sister Park Agreement.
The two parks signed their initial, 5-year-long, Sister Park Agreement back in 2007. On November 1, officials from the parks held a signing ceremony on the South Rim of the Grand Canyon to renew that agreement.
Yuntaishan's Director, Han Yueping, the Magistrate of Xiuwu County (the county where Yuntaishan World Geopark is located), Liu Xiaobo, and Yuntaishan's head of interpretation and public relations, Wang Yanbing, traveled to Grand Canyon for the ceremony with Grand Canyon Superintendent Dave Uberuaga. The 2007 Signing Ceremony took place at Yuntaishan.
Grand Canyon National Park and Yuntaishan World Geopark share several similarities that make a collaborative relationship of sharing and learning a worthwhile endeavor for both parks. They both have rivers cutting through layered rocks to form deep canyons and gorges, both have significant cultural resources that give evidence of human presence dating back thousands of years, and both are visited by more than 4 million people each year.
During the first five years of their Sister Park relationship, Grand Canyon staff traveled to China to present papers at professional conferences on Interpretation and Sustainable Development, three Chinese geologists visited Grand Canyon for a three-day forum with park geologists, and staff members from both parks traveled to the other park to learn about their culture and to compare interpretive techniques and messaging.
During the new five-year agreement the parks hope to continue personnel exchanges; jointly sponsor a Chinese Sister Parks conference; and continue the exchange of technical expertise particularly in the areas of interpretation and education, search and rescue, fire, and operational leadership.
Submitted by NPT Staff on November 12, 2012 - 1:52am